OUR
HISTORY
In 1990, Krishna Vadi and Vasanthi Vadi, with a few likeminded people, founded 'Abhaya', the first animal welfare organization of Hyderabad, when the concept was new to the city. It was started with the belief that somewhere deep down, Indians were a stand for love and compassion towards all living beings, and that cruelty and cynicism about other forms of life is unacceptable to us as a society.
In 1992, they joined hands with Amala Akkineni to become the founding members of Blue Cross of Hyderabad, and established SPCA, Hyderabad in 1994.
They strongly felt that apart from animal welfare, animal rights protection, which at the time was a relatively unexplored field, required immediate attention.
With this objective, in 2000, Krishna Vadi, Vasanthi Vadi, Dr. Lakshmi Ramana, Dr. Syed Quadri and others, started the Hyderabad chapter of Maneka Gandhi's People for Animals. PFA mainly focuses on the implementation of animal rights and laws.
From 1990 to present, PFA Hyderabad's founding members have been incessantly involved in animal welfare, animal rights and cruelty prevention. They have taken massive strides towards a more humane Hyderabad.
Rescue, rehabilitation and veterinary care of sick, injured and abused domestic animals

Upholding and implementing the various laws related to animal welfare and rights

Facilitating adoption/fostering of orphaned and abandoned animals

Extrication, confiscation and release of wild animals in their natural habitat

Identify, investigate and prosecute cases of animal cruelty and wildlife trade

Counseling for cases of animal neglect and seizure in extreme cases

Encouraging compassion towards animals and raising animal welfare awareness in public and young people through campaigns and training workshops

Urging people to embrace a cruelty free lifestyle
FOUNDER,
TRUSTEES
, SECRETARY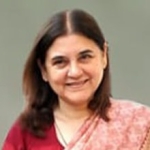 Smt. Maneka Sanjay Gandhi
Chairperson – People For Animals
People for Animals works to create a kinder, gentler world for all. Formed in 1994, it has transformed animal welfare into an assertive, effective movement across the country. Our members include lawyers, film stars, business leaders, bureaucrats, teachers and students. Our units span the country. Our work ranges from running shelters and ambulances to petitioning and lobbying, training animal owners and police, producing information material and programmes and fund-raising. We have won victories for animals in Court, in Parliament and on the streets – in research laboratories, racecourses, temples, circuses and zoos.
PFA has come to be regarded as one of the strongest animal groups in the world. Recently, when the world's first International Animal Welfare Directory was complied, its UK publishers invited PFA to write the foreword. At home, in 2001 the first Padma Shri Award has gone to a PFA member, Dr. Norma Alvares.
Humans cannot exist without animals. Yet we create a world in which they are abused and misused. Let us recognize the partnership between us and further it for the good of all animals – both on two legs and four.