OPERATION
KARUNA
People for Animals Hyderabad, an NGO devoted to fighting for animal rights as well as animal welfare at Hyderabad, has spent over 15 years fighting for the cause. We are proud to provide excellent and compassionate care to all animals, and to raise awareness to make the city more compassionate towards the voiceless.
We are relentlessly working towards materializing our vision: A world where social sanction would deter violations of animal rights, where animals and environment are understood and accepted as being an intrinsic link of the chain of life.
THE ISSUE
On the 4th of June, 87 camels that were being taken for slaughter were spotted by a PFA volunteer. These poor camels were made to walk all the way from Rajasthan to Bantwaram, over the distance of 1,372.4 km, with the motive of selling them off in the meat markets at Hyderabad for slaughter.
CAMEL LAWS IN INDIA
Camels are the inhabitants of Rajasthan and are not suited to the climate and soil of the state of Telangana. The general diet of the camels is shrubs and plants that are found in and around Rajasthan. Rampant illegal sale and slaughtering of camels has become a common phenomenon in the Hyderabad city during festival seasons for quite some time. Several camels are gruesomely slaughtered in contravention of the rules and several sections of the law. Illegal entry and slaughter of camels is a violation of Section 429 of IPC and other laws. It mounts to cruelty towards animals as defined under section 11 of PCA Act. It is a cognizable offence under section 428 and 429 of IPC. Moreover, the camel is the state animal of Rajasthan and smuggling them out without permission for slaughter is also a crime.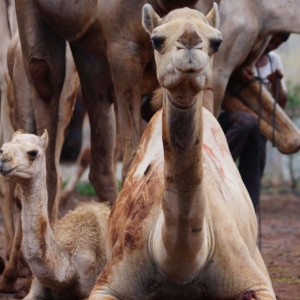 On the 4th of June, Team PFA led by Executive Officer Mr. Dattatraya Joshi; GHSPCA, Bharatiya Prani Mitra Sangh and other senior volunteers like Srinivas Rao and Shantilalji sprung into action and stopped the camel handlers. An FIR was lodged against the accused on the same day and the interim custody of the animals was granted to PFA.
After the rescue we found that 90% of the camels were sick. They were dehydrated and starved with their ribs showing, and their hooves were damaged due to the long walk of over 800 miles. They were not given enough food or water during the journey. All the camels were wounded badly due to resting their huge bodies against the tough surfaces as opposed to the soft sand that they're used to. The unattended wounds during the long travel were now severe with maggots eating away their live tissues from the inside. There were pregnant camels, calves and lactating ones as well.
On the 5th of June, nine of the camel handlers who had been produced in court for violating IPC section 429, PC Act and Transport rules were sent to Cherlapally jail in remand for two weeks. On the 22nd of June, the petition filed by the camel butchers had been dismissed by the Vikarabad Magistrate. The court didn't accept their ownership of the camels in the first place! We would like to thank the honorable magistrate, the entire PFA Team, GHSPCA and BPMS.
CUSTODY
We officially have the custody of the camels now and would need to start making arrangements for transporting them back to Rajasthan! We consider this a huge victory for PFA as well as the animal lovers across the twin cities. This is the second camel rescue in a row by PFA, you can read more about how we rescued 63 camels last year, here
We need at least 2,000 kgs each of two varieties of camel feed, called Kutti (straw powder mixed with nutrients, ideal food for camels) and Bhoosa (consists of straw powder only). 1 kilogram of kutti costs about 50 rs and 1 kilogram of bhoosa costs around 30-40 rupees. Also, the pregnant camels require better nutrition and the lactating ones do too as they're very weak right now and aren't able to nurse their young ones properly. Along with these, fresh green leaves also need to be fed to maintain a balanced diet.
We need the following medicines for the camels:
1. Topicure spray = 8 units
2. Bio sulpha = 20 units
3. Ketoprofen 100ml = 5 units
4. Salphan 100 ml =  7 units
5. Meglunide =  20 units
6. Atropin sulphate = 40 units
7. Dexametasone = 25 units
Transportation of a large number of camels is a difficult, slow and expensive process. We shall need to hire at least 23 trucks to fit the 90 camels, 4 in each truck. The camels are carefully lifted using a crane as they're too scared to walk into the trucks voluntarily. The process takes about 48-72 hours. The trucks are then made to move slowly at about 20-30 kilometres per hour, halting in between to feed and rest the animals. The ropes are untied frequently and the camels are made to move around within the trucks for exercise. We need to travel across Maharashtra, Gujarat and Rajasthan to reach the destination, PFA Sirohi. The entire journey takes over seven days.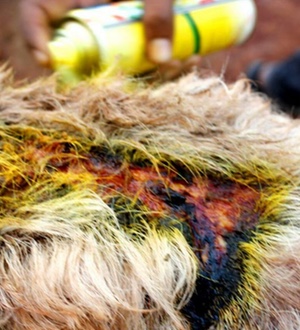 MONETARY REQUIREMENT FOR TRANSPORTATION
We need to hire at least 23 trucks to fit the 90 camels.

Approx. cost/truck


Rs.60,000/-

Total for 23 trucks


Rs.13,80,000/-
We also need a crane to carefully lift the camels and place them in the trucks. This takes about 48hrs, based on how the camels cooperate.

Approx. cost of crane


Rs.800/hour

Cost for 48hrs


Rs.38,400
Total cost of transportation: Rs.14,18,400/-
APPEAL TO DONORS
We require as many donations as possible at this stage towards food, medicine and the upcoming transportation. We request our supporters to contribute as per their capacity and help us with upkeep, rehabilitation and transportation of the innocent camels back to their homeland. We would also like to thank all the Good Samaritans on behalf of the numerous animals under our care. We at People for Animals cannot do what we do without the generous support of caring individuals such as yourselves. We hope that you will provide your kind contribution towards the cause.
superuser
With collaborative efforts from Bharatiya Pranimitra Sangh, GHSPCA and volunteers, PFA has started the process of moving the camels home. After an 8 hour long effort of loading the camels into 21 trucks using a [...]
superuser
The 87 rescued camels are presently being taken care of at Turmamidi village as we wait for the judiciary custody to be given to us. Many are injured, and there are pregnant camels, babies and [...]
superuser
The volunteer trip to help the rescued camels at Turmamidi village was a great success!! We would like to thank all the donors who supported the cause and helped us arrange medicines, tents, torch lights [...]